Board of Directors
President
Amber Scott
Vice President
Dr. Don Frailey
Treasurer
Jessica Werts
Lyndel Helmkamp
Anita Martinez
Heather Johnson
Crystal Uhe
Lynn Williams
Matt Horn
Sheila Goins
Isabelle Smith
To provide opportunities and resources to individuals as they age.
Everyone aging successfully by providing services to seniors.
SSP's values permeate the organization and are demonstrated by all staff and volunteers.
Mission-focused: We provide programs and services based on our client/customer needs and interests.
Quality: We are accountable for excellence.
Professional: We uphold high standards for our work.
Respect: We show consideration for everyone.
Results Oriented: We measure our impact.
Sustainability: We are good stewards of our human and financial resources.
Welcome and thank you for visiting the SSP website. I am Theresa Collins, Chief Executive Officer.
Our Company mission, to provide opportunities and resources to individuals as they age, is what we aspire to do in a broad, enduring sense. This purpose has been evident since the establishment of our corporation, in 1973, when our founders set out to build a quality social service agency.
We work to ensure our vision, everyone aging successfully, is realized.
The values we embrace are embodied in what goes on at SSP from day to day. Team members must exhibit caring and ethical behavior, and SSP must offer fair, equal conduct in a safe, healthy workplace. We believe that in such an environment, sound decision making and effective strategies flow naturally from the give-and-take of daily business engagements among all team members.
I am continually impressed by the resourcefulness and entrepreneurial quality displayed by our staff which allows us to deliver added product value and outstanding customer service to clients who can count on us to carry out our promises. This is key to the exceptional service we provide to our community. We regularly assess and review our clients' needs, the programs we offer, and the effectiveness of the services we provide.
We care about our team members' health and well-being by providing a safe work environment and encouraging a healthy lifestyle. Above all, we aim to be fair and honest with team members and to provide them with meaningful, challenging work.
On behalf of SSP, I invite you to explore our website and learn more about all we have to offer. I am sure you will be impressed and will see why we love what we do.
Sincerely,
Theresa Collins
CEO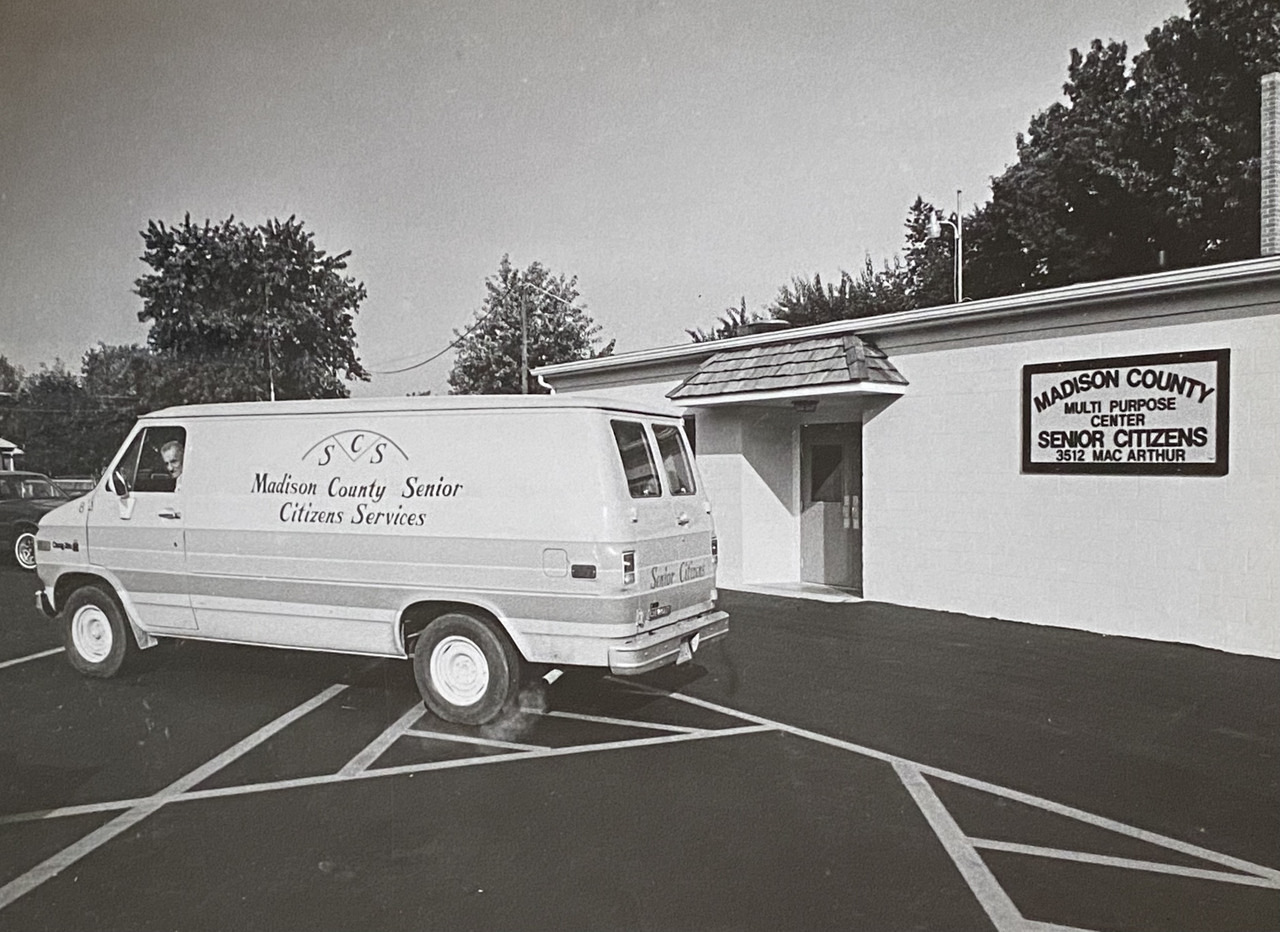 50 years ago, Floyd Galliher, Art Steinman, and Roy Morrow attended a potluck for a group of seniors at the community building at Rock Springs Park. After attending this meeting, it was decided that something had to be done on a larger scale that would provide a multitude of services and information to all seniors of the metro Alton area.
Galliher, a retiree of Standard Oil Co. Inc. and an ardent senior rights activist had previously helped to form many local senior clubs and groups, but now had a bigger challenge of trying to bring them all together. This idea led to the founding of the Alton Area Senior Council with Galliher as its president, Morrow as Vice President, and Hattie Harrington as Secretary/Treasurer. The Council was incorporated on January 17, 1973. Galliher and Morrow wanted a central location from which information and services could be disseminated to local senior clubs. This brought about the need for a building.
In 1993, Galliher and Morrow approached Mayor Paul Lenz about purchasing a site for the running of local senior programs. Several prospective buildings were considered: a small building on State St., a building on the corner of Central and 7th Streets, and even the old Humboldt school building. They were all scratched from consideration because of inadequate parking space. The Council was made aware of St. Marks's Methodist Church (a satellite church of Metropolitan Methodist Church of Alton) at 3512 McArthur Blvd. The City of Alton donated $30,000 in revenue sharing monies to fund the purchase of the building. A second round of revenue sharing money from the city helped to renovate the former church site into a community senior center with offices and to purchase a minibus.
Grant applications were submitted to the newly formed Illinois Department on Aging for recreational services and a hot nutritional lunch. The Council was awarded a $75,000 Title VII nutrition program grant and a $52,000 Title III recreational and support services grant. Both grants required that there be a participant and/or community contributions.
Jean Eckhouse was appointed as a director to administer and carry out the functions of the new agency. On March 1974, the agency served its first meals at the McArthur Site. Later in the month, satellite meal sites were opened at the Middletown Neighborhood Center and the Metropolitan Methodist Church in Alton and the Recreation Center in East Alton. Meal sites in Cottage Hills and Hartford were opened later in the same year. The main kitchen at the McArthur site prepared an average of 250 meals a day, Monday through Friday, to be served to the nutritional program participants. The Council had named its meal program "Food, Facts, and Fun." Any senior 60 years of age or older could participate. It was not a charity program because a donation was accepted by everyone who attended to help meet the local contribution required by the Department on Aging.
In early 1974, the agency had four minibuses and a station wagon to bring seniors to the meal programs and provide transportation for essential errands. Other services provided by the Council were counseling and referral, recreation, arts and crafts, and educational classes provided in conjunction with Lewis and Clark Community College.
The continued growth of the agency was evident because of the additional programs and satellite meal sites, which brought about a need for new staff and a building, in addition to the McArthur location. Funding for the addition was provided by Madison County Community Development and the labor was provided by senior volunteers. On August 1976, the volunteers tore down an old building on the present site of the Famous-Barr (Macy's) store in Alton. F.E. Widman Contractors allowed the volunteers to remove any salvageable material for erection at the McArthur building. They salvaged concrete blocks, timbers, and steel girders. On April 23, 1977, the new addition was completed and plans were underway to asphalt the parking lot and to expand and renovate the kitchen.
From its humble beginnings to the present, the agency has gone through one metamorphosis after another, emerging bigger, bolder, and stronger than before, even in the face of adversity and difficult economic times. It is conceivably the only senior agency in the state that offers every major funded program that the Illinois Department on Aging has developed, plus several of its own creations under one umbrella agency.