If you are looking to reach to your goals, try our hourly personal training sessions. We combine strength, conditioning, and flexibility in each session so you get a "full-service" session. We will go over your goals, figure out the perfect schedule, and design the perfect program for you. Many think an hour would be too much, but we make sure you have enough energy to get to the end.
3 Month Package: $480 (24-hour sessions, $22/session)
4 Week Package: $176 (8-hour sessions, $22/session)
Hour Session: $30/session
1/2 Hour Session: $15/session
Each Package or Pack includes weigh ins, beginning and intra assessments, and motivation.
Single sessions must be used at a minimum rate of 1 per week.


Silver&Fit®

Senior Services Plus, Inc. is now offering Silver & Fit® classes. Silver & Fit is designed specifically to help older adults achieve better health through regular exercise and health education. Silver & Fit provides eligible members with no-cost or low-cost fitness memberships and older adult-oriented group exercise classes through arrangements with certain health plans. Silver & Fit is provided by American Specialty Health Fitness, Inc., a subsidiary of American Specialty Health Incorporated.
If your health plan offers Silver & Fit and you would like more information about our classes, please visit us at 2603 North Rodgers Ave. in Alton, IL or call 618-465-3298 ext. 100. You may also visit Silver & Fit at www.SilverandFit.com. Silver & Fit is a federally registered trademark of American Specialty Health Incorporated.


SilverSneakers® Fitness Program
Click here to see if you qualify for SilverSneakers®.
The Silver Sneakers® Fitness Program is the nation's leading fitness program designed exclusively for older adults. It is a fun, energizing program that helps you take greater control of your health by encouraging physical activity and offering social events. Regular participation in the program has been proven to help maintain health and increase strength, balance, and endurance.
You'll receive a fitness membership at any participating location around the country, and a Fitness Program Advisor will show you around and help you get started. You may also participate in all Silver Sneakers® classes, track your progress online, and attend any sponsored health education seminar or event.
TToday, more than 40 Medicare health plans offer the program as a benefit to members across the nation. If you have supplemental coverage, you may be eligible for a FREE fitness membership. Click here to find out if your health plan offers the SilverSneakers® Program.
Then, simply take your SilverSneakers® member ID card to a participating location. No SilverSneakers® card? Bring your health plan ID card with you to tour the location and see all the amenities you'll enjoy as a SilverSneakers® member.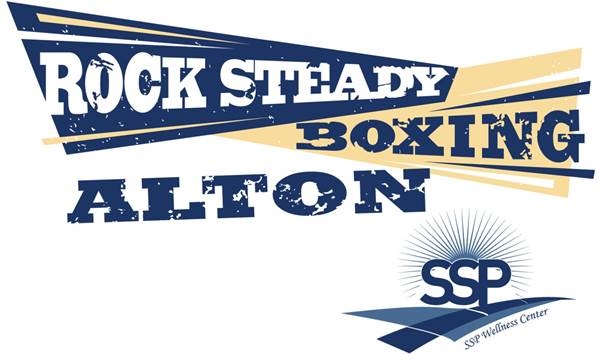 Our Mission
The mission of Rock Steady Boxing is to empower people with Parkinson's disease to fight back.
Rock Steady Boxing is a 501(c)(3) nonprofit organization based out of Indianapolis, IN that gives people with Parkinson's disease hope by improving their quality of life through a noncontact, boxing-based fitness curriculum. SSP has had trainers become certified with the program and bring it to Alton to help those in our area that need it too.
The Challenge
Parkinson's disease is a degenerative movement disorder which can cause deterioration of motor skills, balance, speech, and sensory function. The Parkinson's Disease Foundation estimates that there are more than one million people in the United States diagnosed with Parkinson's disease, and more than 60,000 people are diagnosed each year. Rock Steady Boxing is the first gym in the country dedicated to the fight against Parkinson's.
In our gym, exercises are largely adapted from boxing drills. Boxers condition for optimal agility, speed, muscular endurance, accuracy, hand-eye coordination, footwork, and overall strength to defend against and overcome opponents. At RSB, Parkinson's disease is the opponent. Exercises vary in purpose and form but share one common trait: they are rigorous and intended to extend the perceived capabilities of the participant.
The Rock Steady Boxing Solution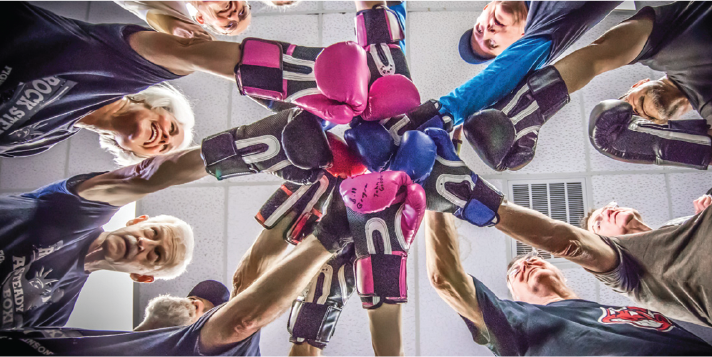 Various studies in the 1980s and 1990s supported the notion that rigorous exercise, emphasizing gross motor movement, balance, core strength, and rhythm, could favorably impact range of motion, flexibility, posture, gait, and activities of daily living. More recent studies, most notably at Cleveland Clinic, focus on the concept of intense "forced" exercise and have begun to suggest that certain kinds of exercise may be neuroprotective, i.e., actually slowing disease progression.
Our clients attest, and academic institutions, such as the University of Indianapolis and Butler University, are reporting and documenting the improved quality of life among our boxers. Discovery of a cure may be many years away, but in the last seven years, there is evidence that progress is made in all stages of the disease by those participating in the RSB program.
Call 618-465-3298 ext. 109 today to schedule an appointment to visit the gym, speak privately with a coach, or watch a class in action. Please consult your physician before starting any exercise program. You can also find out more by
clicking here
.
History
Rock Steady Boxing, the first boxing program of its kind in the country, was founded in 2006 by former Marion County (Indiana) Prosecutor, Scott C. Newman, who is living with Parkinson's.
Newman began intense, one-on-one boxing training just a few years after he was diagnosed with early-onset Parkinson's at the age of 40. Newman witnessed the dramatic improvement in his physical health, agility, and daily functioning through the intense and high-energy workouts. Newman's quality of life improved dramatically in a short time due to his fighting back against Parkinson's disease.
As word of this unique program spread and the demand for the classes increased, Rock Steady created training programs to meet the fitness levels at all stages of Parkinson's, from the newly diagnosed to those who had been living with it for decades plus.
Rock Steady Boxing is often asked about the design of our logo–the Statue of Liberty embellished with a boxing glove. According to Newman, the words inscribed on the Statue of Liberty and the hope symbolized by her presence at Ellis Island illustrated his dream that Rock Steady Boxing would be a beacon of light and hope for those suffering from Parkinson's disease.